Has over 400 member organisations from more than 70 countries spread across five continents. We represent hundreds of thousands of small producers, providing them with credibility and identity by way of an international guarantee system. We are the home of Fair Traders: producers, marketers, exporters, importers, wholesalers and retailers that demonstrate 100% commitment to Fair Trade and apply the 10 WFTO Principles of Fair Trade to their supply chain. We operate in over 70 countries across 5 regions (Africa, Asia, Europe, Latin America, North America and the Pacific Rim). The incredible work and achievements of our members around the world, make us a global authority on Fair Trade and a guardian of Fair Trade values and principles.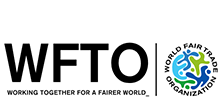 10 PRINCIPLES OF FAIR TRADE
WFTO prescribes 10 Principles that Fair Trade Organisations must follow in their day-to-day work and carries out monitoring to ensure these principles are upheld.